Whether you are opening a bakery for the first time or looking to upgrade your space or equipment, choosing the best mixer for the baking you do is an extremely important decision. Bakery dough mixers are one of the most important and mainly used bakery machines in any bakery, café or restaurant. Whether you are a new or small bakery looking for a dough mixer, or a larger production looking for a commercial dough mixer or industrial dough mixer, Empire Bakery Equipment has what you need to ensure your business receives a high-quality mixer.
For Small to Mid-Sized Retail Bakeries
If you are a small new or existing retail bakery, the question you need to ask yourself when choosing a mixer is what products am I going to be producing? If you are going to produce mainly cookies, pastries and cakes with some bread then you may be perfectly suited for a vertical planetary mixer. If your bakery is going to focus more on breads, bagels and even pizza, then you are better suited for a stationary bowl spiral mixer.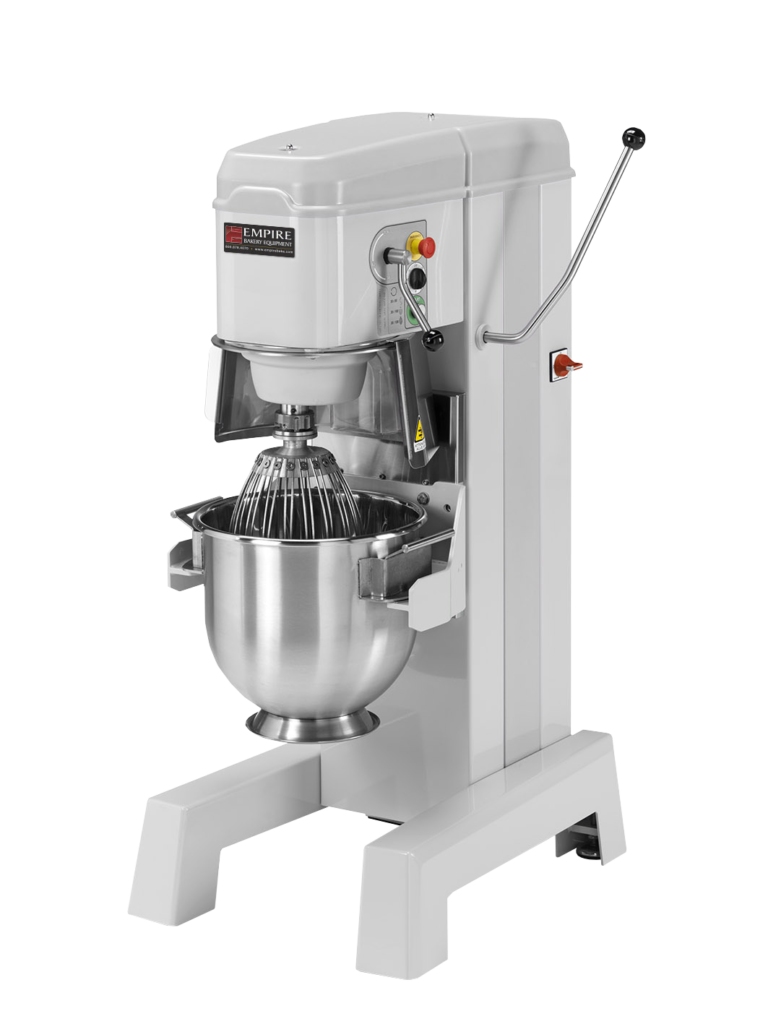 Empire's EMP-TS Vertical Mixer is an all-purpose mixer that gently and consistently blends, mixes or aerates ingredients with exceptional results. This mixer is perfect for a wide variety of applications from breads to batters, sweet and savory. The Vertical Mixer comes with attachments like the flat beater for cookie doughs, wire whip for icings and ganache, and spiral dough hook for bread dough production. For smaller bakeries offering a variety of products, the EMP-TS Vertical Mixer is the perfect tool. This bakery dough mixer also comes loaded with safety features and each unit comes with an overload switch to protect the motor and guarantee you years of reliable service!
When bread is a major focus in your bakery, the IRIS Stationary Bowl Spiral Mixer is perfectly suited for you. The IRIS features precision mixing controls that provide high output, fast mixing times and maximum consistency. Its 2-speed spiral and bowl rotation system provide optimal ingredient blending and dough development, allowing you to produce perfect artisanal loaves, baguettes, pizzas, bagel, rolls and more!
For Large Wholesale Bakeries
When both quality and quantity are equally important in your wholesale bakery operation, then Empire's line of commercial dough mixers with removable bowls and bowl lifts are what you need. Capable of the consistent production of up to 600lbs of dough per mix, these commercial and industrial dough mixers have a removable bowl that allows one mixer to run several production lines or utilize bowls for long floor time dough. The Removable Bowl Mixer bowls can also be used with our line of Removable Bowl Lifts that allow you to unload dough onto a table, dough bench or into a hopper. Empire's Removable Bowl Mixers and Lifts were designed to ensure that large wholesale productions could operate as effectively and efficiently as possible.