The demand for traditional artisan breads has seen increases over the past couple of years. With baking technology offering more advanced innovation year after year, the question bakers ask themselves is, "how can I achieve traditional old-world baking in the modern world of bakery equipment technology?" Luckily, Empire Bakery Equipment makes the answer simple by offering innovative bakery equipment that provides traditional artisan results. There are a variety of features that Empire equipment offers that allow bakers to produce higher quantities more consistently and efficiently without sacrificing the traditional artisan quality that customers are looking for.
Empire offers a line of Deck Ovens that take old-world artisan baking and upgrade it with a variety of innovative features that make stone hearth oven baking a breeze! For example, the MiniTube Stone Hearth Deck Oven features a compact design with advanced vapor tube technology that facilitates heat distribution and retention. The vapor tubes distribute heat evenly throughout the product zone, and the genuine stone hearth deck combines to produce the perfect artisan product each and every time.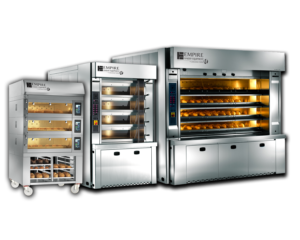 Empire Bakery Equipment also offers a line of Electric Deck Ovens which give you a traditional artisan bake at a fraction of the cost. Empire's LFM-D Modular Electric Deck Oven is a bakers dream. The LFM-D's hearth is one of the highest quality baking stones available today and its state-of-the-art heating elements produce the perfect artisan product while using as little as 11 kW of power! These advanced baking technology features make the LFM-D one of the most versatile Electric Artisan Deck Ovens on the market today.
When you are looking for a mixer that will give you artisan quality dough development with today's technological advancements, Empire has got you covered. Empire's IRIS Spiral Dough Mixer builds on the reliability and versatility of traditional spiral mixers with added precision mixing technology that provides high output, fast mixing times and maximum consistency.
In today's baking industry, bakers are looking for equipment that can provide consistent, high-quality traditional artisan results using the latest technology that can speed up production and reduce labor. Empire Bakery Equipment prides itself on being able to offer the latest in baking technology and equipment innovation while helping bakers provide a superior high-end product time and time again. Great baking is only achieved using great equipment, and when it comes to great equipment … Empire delivers.