The bakery equipment industry has come a long way in terms of technological advancements. More and more bakeries and facilities are turning to these new technologies to help automate and streamline their production. Finding the right equipment can help take your business to the next level and lead to increased revenue and success. The wholesale bakery industry is one that can especially benefit from production innovations. The need for wholesale facilities to produce a large quantity of product without losing quality and consistency makes finding the right equipment solutions a critical task.
Empire has recently just announced some of the latest innovations in wholesale dough production that specialize in the production of high-hydration doughs without stressing or degassing the dough. Empire is proud to now be able to offer these machines to facilities in need of quality wholesale production equipment and will be running demos on the equipment in late March.
Let's meet the machines that have burst onto the wholesale production scene and will look to make major waves in the industry.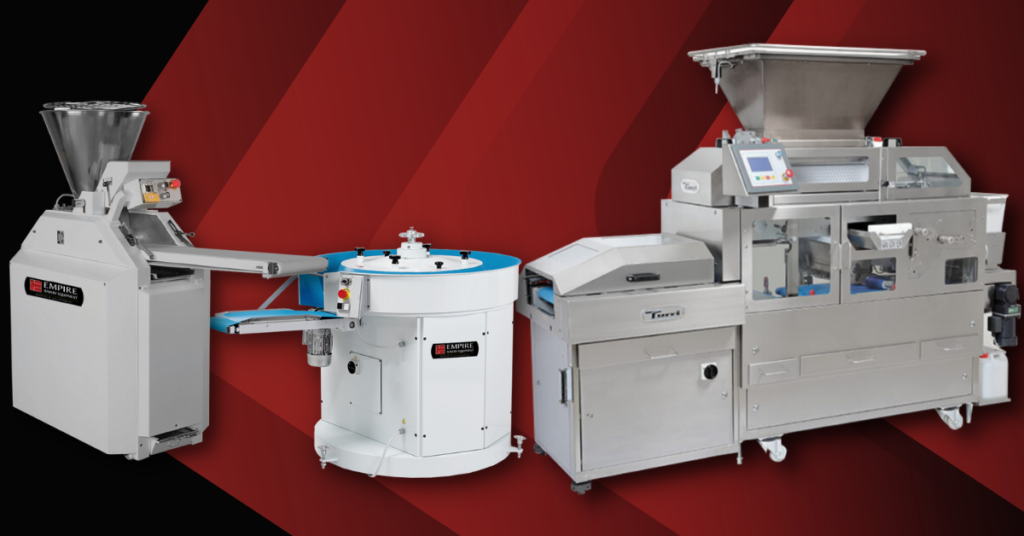 First, we have the Gravi-Flux No-Stress Dough Dividing Machine. The Gravi-Flux features state-of-the-art technology that will allow you to maximize the output and efficiency of a variety of doughs from 48% hydration to as high as 98% hydration! There's no machine quite like the Gravi-Flux. The high level of automation of this machine, allows one person to easily manage operations which can ultimately save your facility money on labor costs. With its no-stress technology and laser-precise weighing conveyors, each product is produced with handcrafted quality and precision.
Next, there is the SV Volumetric Divider. This divider also works well with higher hydration doughs and offers the versatility of adapting to a wide range of applications. The SV is designed to process soft and medium dough without stressing or degassing the dough. You would be able to divide up to 2,700 pieces per hour with the highest weight accuracy, making it one of the most efficient dividers on the market!
Lastly, we have the AR2 Eccentric Rounder. The final piece of the dough production trio, the AR2 is the ideal solution to round medium and soft doughs with high hydration percentages. The magic is in the eccentric rotary movement that can round up to 1,800 pieces per hour. The AR2 can be combined with the SV Volumetric Divider or inserted into a Gravi-Flux production line, making it an extremely versatile machine.
Having the right equipment in your wholesale production facility can mean a world of difference to your production efficiency, product quality and consistency. Empire understands the need for the highest quality equipment when it comes to wholesale production, and they are proud to be able to offer such impressive and innovative machines to their customers. Building better bakeries has, and always will be the driving force behind why we do what we do!